Dr. Herbert A. Wertheim is a scientist, clinician, entrepreneur, philanthropist and community leader whose enduring discoveries and contributions in eye care and other scientific fields have touched millions.

Dr. Wertheim is founder, and CEO of Brain Power Incorporated, the world's largest manufacturer of ophthalmic, instruments and chemicals. He has served as an advisor, chairman or board member of 18 private and public companies in banking, health care, aerospace, real estate, transportation and several high tech industries.

Dr. Wertheim has been active in service to the Miami community since 1967 and has made substantial contributions to many charitable organizations and to Florida International University. He has been a member of the FlU Board of Trustees since its establishment in 2000 and served as Chairman of the Board of Directors and Board member of the FlU Foundation from 1988 through 2001. He also served as chairman and vice chair of The Campaign for FlU, which raised more than $200 million. Dr. Wertheim and his wife Nicole have made gifts of more than $1 million to the University's music, theatre, and dance programs. The gifts helped construct, equip, furnish and fund scholarships at the Herbert and Nicole Wertheim Performing Arts Center at FlU. The Wertheim Concert Hall also received an additional gift of almost $1 million for the Concert Organ donated in remembrance of his mother Sydell Ida Wertheim. The Wertheim Foundation also donated funds to construct and landscape FlU's magnificent Wertheim Plant Research and Teaching Conservatory and adjacent case study lecture hall.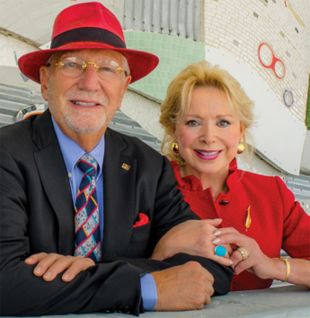 retinal deterioration. Dr.Wertheim's discoveries have helped prevent millions of people from acquiring cataracts or eventually going blind from macular degeneration and other degenerative eye diseases.

Dr. Wertheim has served as a member of numerous local and national charitable boards, including the Zoological Society of South Florida and the American Heart Association of Miami, was a founding benefactor for the Koala and River Otter projects at Miami Metro Zoo, and was a member of the Vail Valley Foundation. The Wertheim Foundation was the original sponsor of the first five year funding for the TV series National Geographic, Nature, Life on Earth, Jacques Cousteau, Firing Line, and other educational programs on South Florida Public Television, WPBT-TV. The foundation also funded the construction of the Public Radio Station in Vail, Colorado, and the first PBS TV repeater in the Rocky Mountains.